Puckerville – Toxic News has just learned that the not-so-esteemed scientist, Professor Rheinhold Sauernoggin has disappeared.Neighbors report that the odd and reclusive scientist left his dark, dingy home early yesterday morning but hasn't been seen since.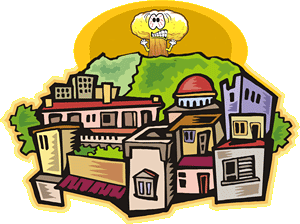 Police are trying to track the Professor's whereabouts but are finding little success because no one in Puckerville knows where the professor's lab is located. In fact, no one knows what the Professor does while he is in his lab.
A source close to the investigation, who wished to remain anonymous, indicated that the home yielded no clues.
"It looked like a normal house from the inside," said the source. "It doesn't appear that anyone broke in and kidnapped the professor. We just don't know what happened to him."
Puckerville's sheriff said he's doing all he can to find Professor Sauernoggin.
"Some locals reported seeing a large mushroom cloud rise up from the east," noted Sheriff Tex Toxins. "We had our deputies check the area, but couldn't find anything. It's a very desolate area with lots of shrubs and greenery. Nothing could be found in that mess."
The sheriff also noted that no next of kin or friends could be located. It seems Professor Sauernoggin just disappeared and probably won't be missed.
Stay tuned for further reports on the disappearance of Professor Sauernoggin.